Lighthouse Sound Facts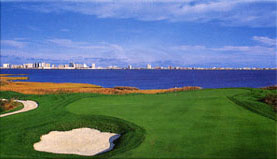 The Links at Lighthouse Sound opened in 2000 and is home of the longest cart bridge in the United States, stretching nearly 1,500 feet. This bridge will take you from the bay side holes across to the pristine marsh side.
The course features the only consecutive holes in America playing to the same double green. The Par Five, 2nd playing 508 yards and the Par Three, 3rd 190 yards play to a 16,000 square foot green set along a tidal marsh of the Assawomen Bay.
The signature hole, the Par Three 5th plays directly over the marsh to a green surrounded by water on three sides. This hole plays from 89 to 218 yards, and also provides spectacular views of the Ocean City skyline.
The back nine holes play along the St. Martin's River and through the trees and marshland that have been undisturbed since the beginning of time. The Par Three 11th and Par Five 12th play directly along the river.
Environment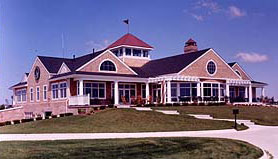 We are extremely proud of our environmental record at Lighthouse Sound. Due to it's location on such a prime piece of real estate overlooking Ocean City, this 1,000 acre property has been the subject of numerous plans for development over the last several decades.
The original plan of 1,500 homesites, fronting directly on the waterfront has been modified to a much smaller, more sensitive community of less than 100 homes that are surrounded by the golf course. This provides a natural buffer to the bays and marshes. This plan has protected more than 700 acres of pristine marsh and wooded wetlands.
As you journey through the course, you will notice our efforts to preserve and enhance the natural habitat. The course is designed to collect and recycle water, chemicals, nutrients and stormwater runoff through a system of elaborate underground drainage.
As we built Lighthouse Sound, every effort was made to avoid wetland impacts. You will travel over 2,000 feet on cart bridges; these bridges were built to avoid the wetlands having to be filled. In fact, during construction we actually created more than 12 additional acres of wetlands.
Lighthouse Sound has joined the Audubon Society and has initiated steps to become a fully certified Audubon Sanctuary. Through this program, we will protect our property's unique ecosystem of salt marshes, native forests, freshwater ponds and marsh, native grassland and large tidal pools. This unique ecosystem provides habitat for a variety of bird, animal and plant life.
Please take time to enjoy this unique and extraordinary setting as you play your round at Lighthouse Sound. By safeguarding the property's natural and pristine beauty, we have tried to provide our guests with a truly unforgettable experience.
USGA Rules Govern All Play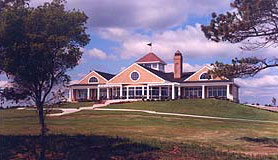 Please observe all cart rules.
Please repair ball marks, replace divots and rake sand bunkers.
Please maintain proper pace of play.
Please observe environmentally sensitive areas on the golf course.
Pro Link
Lighthouse Sound is proud to offer ProLink to our players. ProLink tools include such useful information as full graphic displays of hole and green layouts, yardage to the daily pin placements, pace of play, professional tips, two-way messaging and food and beverage ordering service. The staff will provide you with information on how to use the ProLink System in conjunction with the Links Guide to enhance your golfing experience.