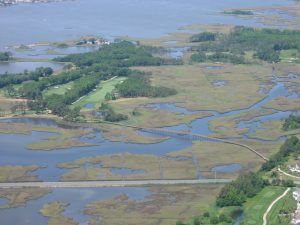 The property, now known as Lighthouse Sound, was a working farm until the mid 1960's when a massive development with almost three thousand home sites was envisioned and construction actually begun. The old silo and barn from the farm days can still be seen from the driving range. The project was stopped before completion and the property changed hands several times before the Ruark family bought the project in the late 1990's and committed to preserving the natural beauty of the property.
Most of the home sites were eliminated from the project, and the ones that remain were pulled off of the waterfront, reserving the most pristine areas for golf and preserving the environmentally sensitive areas. Rather than impacting wetlands wooden cart bridges were built throughout the property, including the longest cart bridge in the US, running between holes 8 and 9.
Lighthouse Sound has been recognized by most of the golf publications including a Top 100 rating by Golf Magazine. We hope you will take notice of the surroundings we have preserved as you enjoy your round here at Lighthouse Sound.